When We Are Closed
If you dial our number between 18:00 and 08:00 on weekdays and all weekend you will be automatically transferred to the 111 service who will be able to assist you. They can provide emergency prescription and pharmacies can be located:
https://www.england.nhs.uk/east-of-england/nhs-england-and-nhs-improvement-east-of-englands-work/pharmacy-information/
Walk-in Centre
There is a walk-in service in St Neots at 24 Moore's Walk, St Neots, PE19 1AG. It is open until 20:00 Monday to Friday and from 09:00 to 16:00 at weekends. YOU MUST CALL 01480 219317
https://onemedicalgroup.co.uk/surgeries/st-neots-health-centre/
Out-of-hours services are generally busy so please think carefully before asking to see a doctor and only do so if you genuinely cannot wait until the surgery re-opens.
In a genuine emergency you should call 999. Chest pains and / or shortness of breath constitute an emergency.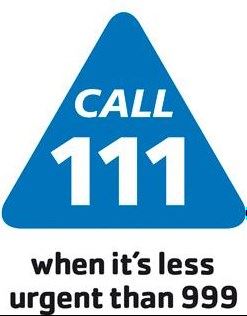 Bank Holidays 2023
Monkfield Medical Practice will be closed on the following Bank Holidays in the upcoming weeks:
Friday 7th April, Monday 10th April, Monday 1st May, Monday 8th May, Monday 29th May
When we are closed please make the right choice for your illness or injury and help save A&E for those who need it most. Local services open across the bank holiday include:
NHS 111: If you need urgent medical support, including emergency prescription needs over the Bank Holiday weekend, think 111 First. NHS 111 is available on the phone and online 24/7 at NHS 111 and they will help you right away. And if you need urgent care, they will book you in to be seen quickly and safely. This could be with a GP, Urgent Treatment Centre or A&E.
In a mental health Crisis please call NHS 111 Option 2.
Pharmacies: Pharmacies can help with a range of things including hangovers, hayfever, colds, emergency contraception, and non-prescription medication. Pharmacies will be open across the Bank Holiday.
Minor Injury Units (MIU) and Urgent Treatment Centres (UTC): These can help with a range of minor illnesses and injuries such as sprains and strains, broken bones, minor burns and scalds, minor head and eye injuries, bites and stings.
Our telephone lines will reopen on the next working day at 0800am.