Hospital Waiting Times – Patient Helpdesk
The Covid19 pandemic has added to the strain on all NHS services. As a result of this, waiting list times for outpatient and specialist appointments and procedures have increased for everybody.
We appreciate that this can cause worry and uncertainty about when you will eventually receive an appointment. The practice has no direct access to the hospital appointment lists.
If you have been referred by your GP/are waiting for :
An outpatient appointment
An appointment for hospital tests (eg scans)
A date for an operation or other treatment
A follow-up from your hospital team
and you have a query about what is happening, please contact the Patient Helpdesk on 0800 048 5800. The helpdesk is open Monday to Friday from 9am to 5pm.
Only call the practice if your condition has genuinely deteriorated, when you will be reviewed by one of the clinical team and appropriate action can be taken in regard to your care.
Stay Well
Every household to receive copy of Help us help you and your family stay well booklet
Distribution of our local Help us help you and your family stay well booklet has started this week with every household in Cambridgeshire and Peterborough due to have a copy delivered to them (approx. 390,000 households).The booklet explains what you can do to look after yourself and your family, what local services are available and how to contact the NHS if you need to. The booklet is also available online on the CCG Website - it is also available in the following languages - Polish, Romanian, Lithuanian, Portuguese, Urdu and Punjabi.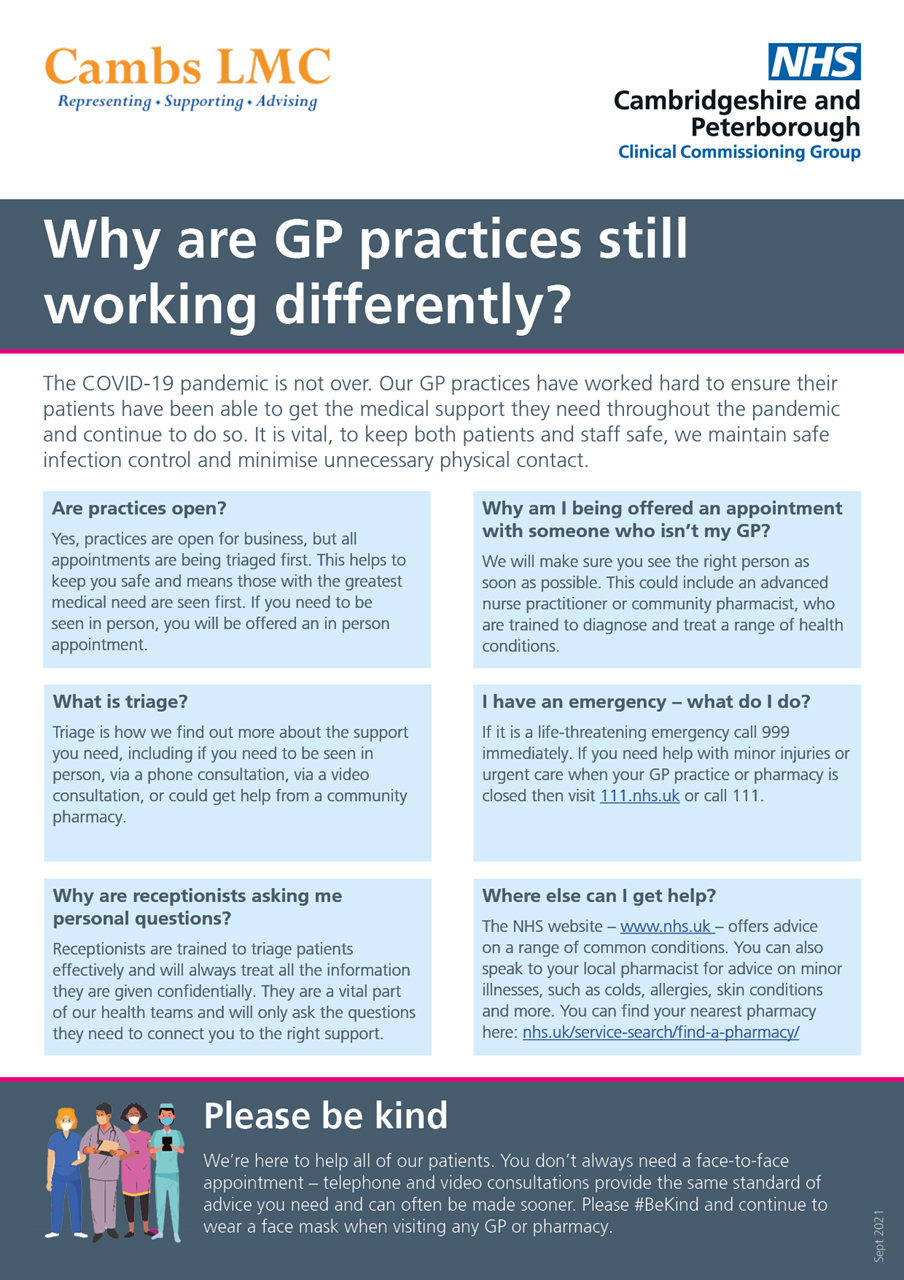 Doctorlink
Monkfield Medical Practice would like to invite you to join DoctorLink.
DoctorLink is our new online service where you can access advice and appointments on line.
Registration is simple and you can register here:
https://app.doctorlink.com/monkfieldmp/register
For appointments, we ask that you undertake a symptom assessment through DoctorLink.
Welcome to Monkfield Medical Practice
With patient's needs at the heart of everything we do, our website has been designed to make it easy for you to gain instant access to the information you need.
As well as specific practice details such as opening hours and how to register, you'll find a wealth of useful pages covering a wide range of health issues along with links to other relevant medical organisations.